& Juliet is a Broadway musical that originated in London and is now showing here in NYC. There seems to be a trend in importing these musicals from Britain with Back to the Future also coming over. & Juliet is a new musical that imagines what might have happened if Juliet had chosen not to kill herself after Romeo's death. The show, which is currently playing on Broadway, is a jukebox musical that features songs by pop superstar Max Martin.
The show was created by David West Read, who also wrote the book for the Broadway musical The Prom. Read said that he was inspired to write & Juliet after reading a book about Shakespeare's plays that suggested that Juliet might have survived Romeo's death.
& Juliet is a fun and feminist musical that challenges traditional gender roles. The show features a strong female lead who is determined to live her own life on her own terms. The show also features a diverse cast of characters, including a non-binary character.
The music in & Juliet is catchy and upbeat. The show features a number of hit songs by Max Martin, including "Oops!…I Did It Again," "Since U Been Gone," and "Stronger." The songs are used to great effect in the show, and they help to move the story along. You can see these hits in the picture below. For those who are into original songs, you can see that you are going to get a lot of prior songs though often done with flavors of originality and humor though a lot will sound familiar.
The cast of & Juliet is talented and energetic. The lead actress, Lorna Courtney, gives a standout performance. Courtney brings a lot of energy and charisma to the role of Juliet. The rest of the cast is also very good, and they all do a great job of bringing the characters to life. Here are some big praises for Lorna Courtney:
"Courtney is a breath of fresh air as Juliet. She brings a youthful energy and exuberance to the role that is infectious. Her vocals are powerful and her acting is top-notch." – The New York Times
"Courtney is a star in the making. She brings a depth and complexity to Juliet that is both believable and heartbreaking." – The Hollywood Reporter
"Courtney is simply stunning as Juliet. She is a force of nature on stage and her performance is sure to leave a lasting impression." – Variety
We completely agree that she does an amazing job belting out those hits. Overall, & Juliet is a fun and refreshing musical that is sure to appeal to a wide audience. The show is a great choice for anyone who is looking for a fun night out at the theater.
Getting to the Theater
& Juliet is playing at the Stephen Sondheim Theater which is nearby Bryant Park. You can get directions using the Google Maps by clicking view larger map and entering your starting address.
When you arrive, you'll likely see quite a large line wrapping around the theater. This is the general line to enter so get in line, but it moves fairly quickly. You can see pictures below of a recent lineup.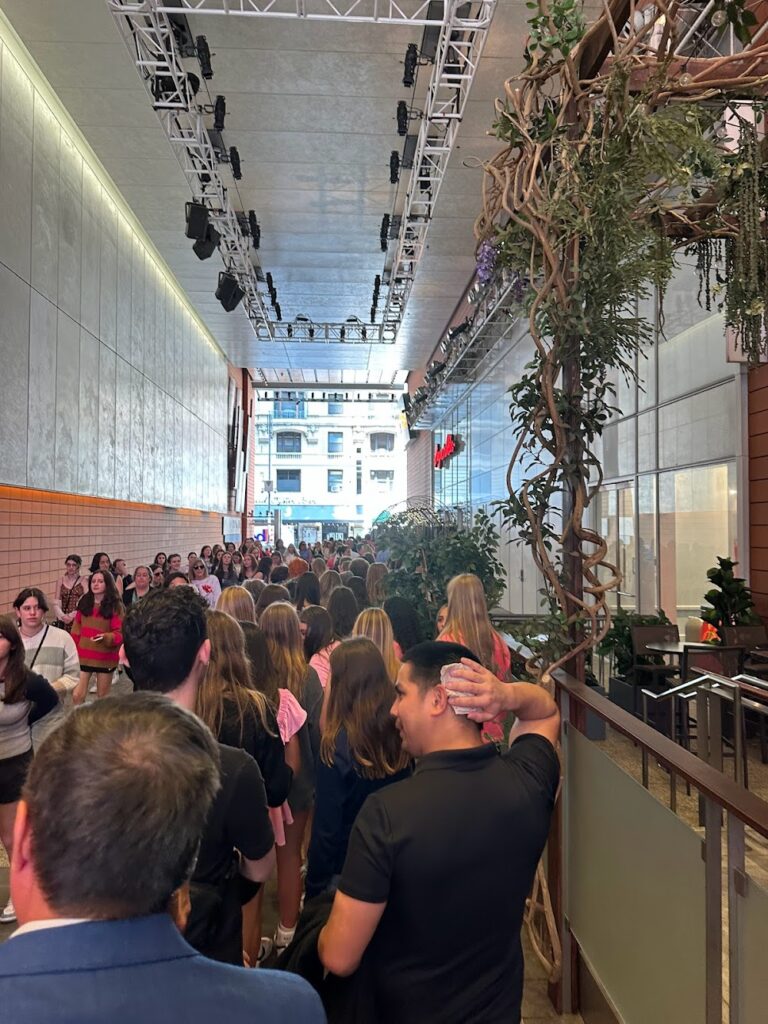 History of & Juliet
& Juliet was first developed in London's West End in 2019. The show was a critical and commercial success, and it won three Olivier Awards, including Best New Musical.
The show was brought to Broadway in 2022. The Broadway production has been met with positive reviews, and it has been a box office success.
& Juliet is a unique and innovative musical that is sure to be a hit with audiences for years to come.